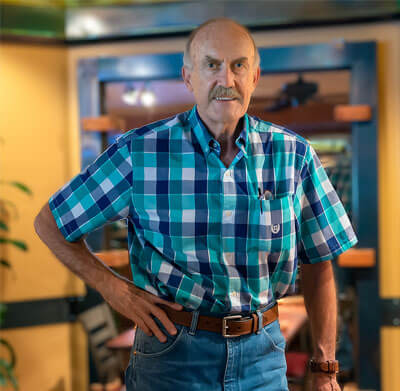 Sheldon is the founding partner of Phoenix City Grille, an Army Veteran, and an alumnus of Thunderbird graduate school, now part of Arizona State University.
He has opened restaurants throughout the United States, but his love of the Southwest, its history, food culture, and natural beauty have always drawn him back to this area.
In 1997 he opened Phoenix City Grille, a restaurant he hoped would be an integral part of North Central Phoenix and a true gathering spot for locals and visitors alike.
Southwestern flavors abound, and the all-day menu offers many choices.
In addition to the full menu, he envisioned an operation where the talent of both the staff and local purveyors and farmers could be showcased through daily specials, allowing for the use of ultra-seasonal ingredients.
Sheldon's passion for food extends beyond his restaurant. He firmly believes in the power of food to bring people together and create a sense of community. Thus, he has dedicated his life to sharing his love for the Southwest's cuisine with anyone willing to listen.
Sheldon welcomes longtime residents and curious travelers to join him on a journey of culinary discovery, exploring the bold flavors and rich history of the Southwest together.